After a decade of dedicated labour in the seventies, De Zorg met Vlijt (1908) was transformed into a charter ship. Throughout all the renovations that followed, the blueprint from 1983 remained the heart of the design: eight cabins with sixteen sleeping places. The ship fits 22 passengers on the day trips.
The map below depicts the layout of the lounge, kitchen and hall with sleeping quarters. The crew has their own quarters: the shipmate in the prow and the skipper in the berth.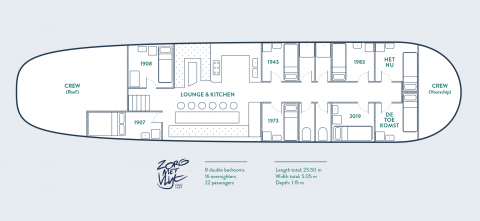 Eight double cabins
The spacious cabins have natural light, a washing basin, closet space, and a 220v outlet. Seven of the cabins have a bunkbed, the first cabin has a double bed. The hallway has two separate showers and two modern toilets. The lounge, with open kitchen area, has ample natural light. This is the heart of the ship, a place to cook, eat, talk, rest, and enjoy yourself. Listen to music, read a book from the ship's library, play a game.
The galley is practical and modern, equipped with all the necessities, and includes a professional stove, two fridges and a small freezer.
Algemeen
Length of the ship: 23,5 m
Width of the ship: 5,05 m
Depth of the ship: 1,15 m
Sail plan: Mainsail: 150 m2; Foresail: 65 m2; Jib: 30 m2; Genoa: 90 m2; Watersail: 20m2.
Communication/navigation/safety: Compass, gps, VHF radios, lifejackets, lifebuoys, mobile phone, fire alarms etc.